!—- ShareThis BEGIN -—> <!—- ShareThis END -—>

SINTRA COAST WEATHER
By Car
From Lisbon:
If you're brave enough to drive through the centre of Lisbon once you're on the speedy A5 and A37 motorways you'll have an easier drive to Sintra. An alternative, longer but far more picturesque is through Cascais via the Parque Natural de Sintra-Cascais on the A16 and N247.

From the North:
If you're coming from Ericeira, Mafra or then the N247 and N9 routes gives you easiest access.

South and East: Access to Sintra from the South and East is via the A16

Once you've arrived at Sintra you will need to find somewhere outside the old town to park. Since 2018 the cobbled narrow and steep roads of the village of Sintra are out of bounds for those drivers without a permit. Permits are mostly reserved for residents only.

In the residential side of Sintra, 1.5km east of the old town, close to the Portel de Sintra train station is a large car park and is the best option during the summer. The maximum fare per day is €1.50. There's a "Park and Ride" system in place, show your parking ticket to the driver and you'll get a free transfer into Sinta town station where bus connections wait to take you further on. Buses run every seven minutes or so.

There's also a fair sized car park closer to the town train station just behind the Pingo Doce supermarket. From there it's an easy stroll to catch the local bus to take you to where you want to go.

Where to rent a car?
There are several car hire companies available at Lisbon Airport including Europcar, Hertz, Avis, and Budget among others. The charges for hiring a vehicle depend on your destination. To Sintra the average charge is €80 per week. Renting a car offers a golden opportunity of discovering the region with the flexibility of passing through the various sites at your own pace.
To get a competitive quote and pre-book your car try using the EnjoyCarHire search engine to get a great deal.
By Train
From Lisbon:
By far the easiest way to get to Sintra from Lisbon is by train operated by Comboios de Portugal , Portugal's state railway. Two urban services (comboios urbanos) go from Lisbon to Sintra, one from the central train station Rossio and the other from Oriente, by the Parque das Nações and close to the airport. Both routes are inexpensive and allow an easy day trip to Lisbon. The Rossio/Sintra line can get very busy especially during the peak season. Advice would be arrive early or take the train from Oriente, which also stops at Areeiro, Entrecampos, and Sete Rios stations within central Lisbon. Oriente is also the inter-city railway hub and has a large coach interchange. Both stations are on the Metro line and easy to get to. Journey times on both lines are less than 50 minutes. When you buy a fare to Sintra it will be loaded onto a reusable "Viva Viagem" card which are used on Lisbon's buses, metro and trams. The cards cost 50 cents but can be reloaded when needed. You must validate your journey using the machines found on the platforms or risk a fine. A good alternative to queueing to get your ticket is to download the free CP App, not only can you buy e-tickets but also check timetables.

If you're travelling from Cascais or Estoril into Lisbon and the changing trains consider buying a 24hr "Tourist Travelcard" which will be cheaper than two separate return tickets. These tickets are on sale from ticket offices and ticket vending machines.
• Azambuja/Lisboa/Sintra line: Timetable | Trains of Portugal Website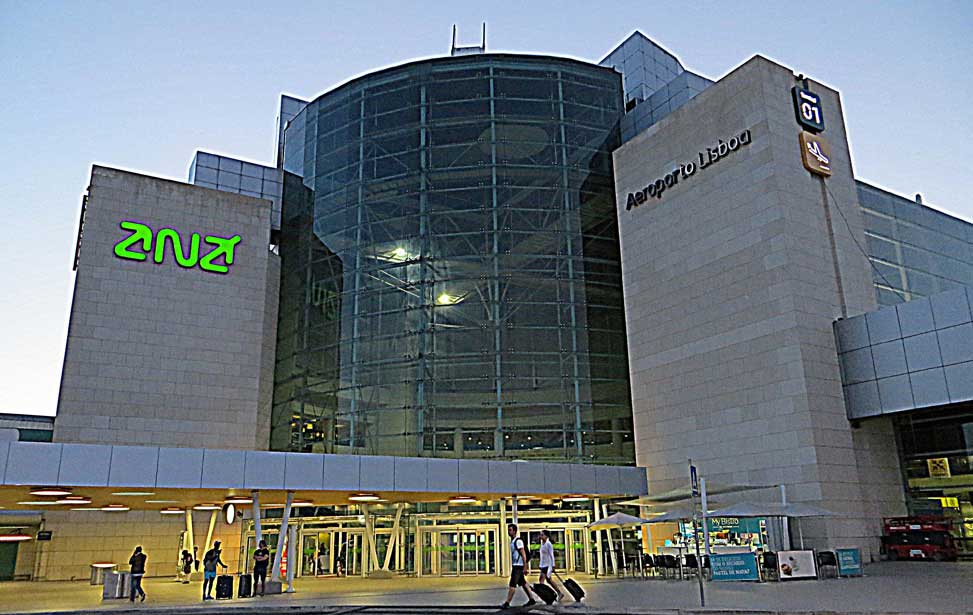 GET A GREAT DEAL ON YOUR FLIGHT HERE:
LISBON AIRPORT
Lisbon Airport (Aeroporto Lisboa) also known as Humberto Delgado airport or Portela airport is located four miles (7km) northeast from the centre of Lisbon and is well connected by public transport. This airport serving Portugal's capital is also the country's busiest and the main hub for TAP, Portugal's national airline. The airport itself is modern, clean, well managed with good informative signs and great facilities. There are two terminals; terminal 1 handles all arrivals and regular scheduled and chartered flights where as terminal 2 is used by low cost airlines, most notably EasyJet and Ryanair. There's a free shuttle bus which runs between the two terminals every ten minutes.

Metro
The Aeroporto Metro station was added to the Red Line of the Lisbon Metro system in 2012. Regular services whisks passengers to the centre of Lisbon in 20 minutes. Timetable & Info
Orient station is only a few stops away where there's a major train station and national coach hub. You can get the train to Sintra from there. Timetable

Aerobus
The Aerobos services run from both Terminal 1 and Terminal 2 and connect the airport with a number of major destinations in the downtown area, including the Sete Rios bus and train terminal, and Entrecampos, Cais do Sodré, and Rossio railway terminals. The buses have been adapted for carrying large luggage and access for those with reduced mobility.
Timetable & Info

Taxis
Taxis operate just outside arrivals 24 hours a day and take about 15 minutes to get into the centre of Lisbon. Agree a price with the driver before you set off.

Private Transfer
Book a private transfer from the airport to your Lisbon accommodation. Meet your driver at the arrivals hall and get where you need to go with convenience and ease. Drivers are available 24 hours a day to take you or bring you from the airport.

Check Availability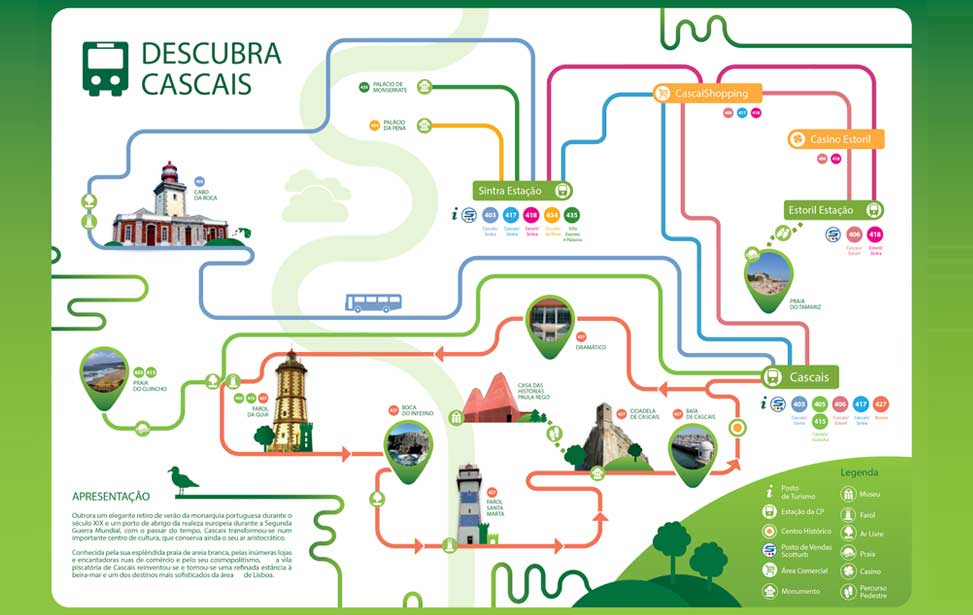 By Bus
From Lisbon:
Vimeca run an express service from Marquês de Pombal, Lisbon to Sintra station and is an excellent option if you're staying north of the city centre. It avoids the hastle of battling the crowds at Rossio train station. Travel time is only 27 minutes. Tickets costs €15.00 for a return. You can purchase tickets from the small ticket booth or directly from the driver.
• 035 Lisbon (Marquês de Pombal) - Sintra (Estação): Timetable
• Vimeca Transportes Website

From Cascais:
ScottURB run the bus services around Sintra and Cascais. If you're arriving from Cascais there are two routes you can take the #417 and the #403, both run fairly regularly. The #417 is a rapid service and goes via the CascaisShopping complex. The #403 however takes the scenic route through the Sintra-Cascais Natural Park, and follows the coast passed Cabo da Rocha. They both start and terminate at Cascais town bus station and Sintra train station. If you're planning to make a few stops during the day consider buying a day ticket (Turístico diário) for €15.00. Tickets can be purchased at the ticket iffices or directly from the driver.
• 403 - Cascais to Sintra train station via Cabo da Roca and Colares: Timetable
• 418 - Cascais to Sintra train station via CascaisShopping: Timetable
• ScottUrb Website

From Ericeira & Mafra:
North of Sintra bus services are run by Mafrense. They operate a route from Ericeira and also from Mafra. Both serivices terminate at the Portela de Sintra train station.
• 5846 - Ericeira - Portela de Sintra: Timetable
• 5844 - Mafra - Portela de Sintra: Timetable
• Mafrense Website