10 Best Beaches of Sintra
The dramatically beautiful coastline of Sintra
| 01
PRAIA DA ADRAGA
Praia da Adraga makes an ideal cove for both sunbathing and swimming. It's renowned for its clean water and its vast expanse of sand. It is easily accessed down a long winding road that descends from the nearby village of Almoçageme. Rocky headlands on either side of the beach, along with jagged islets just offshore, exhibit impressive rock formations and increase the rugged beauty of the place. So much so in 2003 Praia da Adraga was voted third in the Sunday Times 20 best European Beaches awards. Compared to other larger beaches in the area Praia da Adraga gets less crowded, especially during the week. There are parking spaces which are ample for the majority of the time. There are also plenty of amenities such as public toilets, showers and a decent restaurant that serves a good selection of fish dishes. Praia da Adraga beach is patrolled by lifeguards during the high season.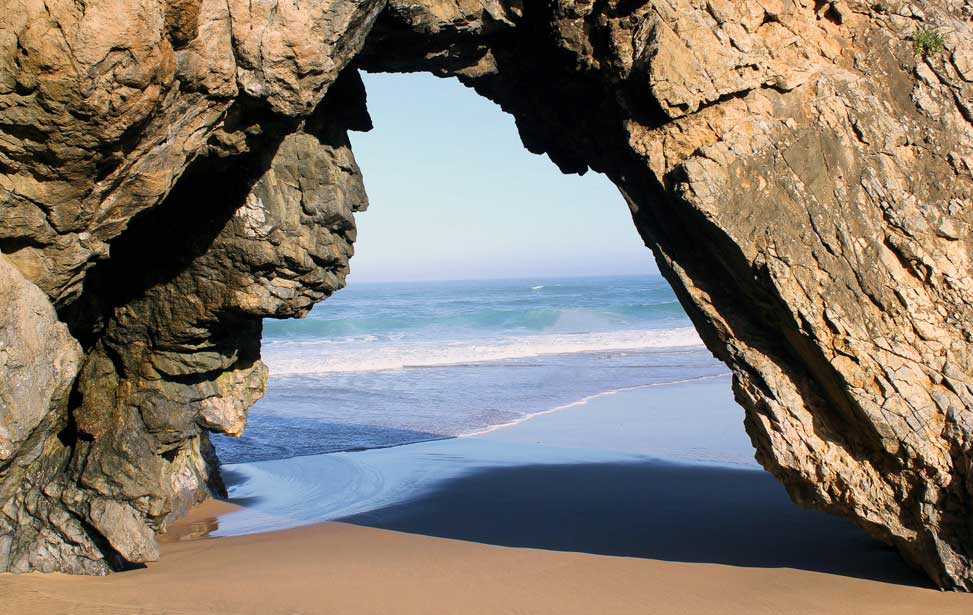 | 02
PRAIA DA AGUDA
A thin strip of sand 500 metres long almost disappears during high tide. Northwest of Sintra, close to the village of Fontanelas, Praia da Aguda is accessed from the car park along a path that descends the cliff edge in a series of steep steps. The view on the downward climb is breathtaking as you look over the shoreline below. Praia da Aguda is also popular with anglers hoping to net a sea bass or two. There are no amenities here, so come prepared.
| 03
PRAIA DA URSA
If you're looking for seclusion and tranquillity, then Praia da Ursa would be the beach for you. Located a just little north of Cabo da Rocha, mainland Europe's most westerly point, this sandy cove has a dramatic and wild beauty. The rock stacks and islets, which battle with the waves offshore, are a popular subject for photographers. One such rock formation lends the beach its name. The huge Rocha da Ursa (Bear Rock) is reputed to resemble a bear with a cub on its lap. Its pristine and untouched nature is due to its remoteness. The path which winds down the hill from the car park can take up to an hour, which would pose problems for those with mobility issues. However for the adventurous who dare to make the trek are well rewarded by the spectacle of one of Portugal's most beautiful beaches.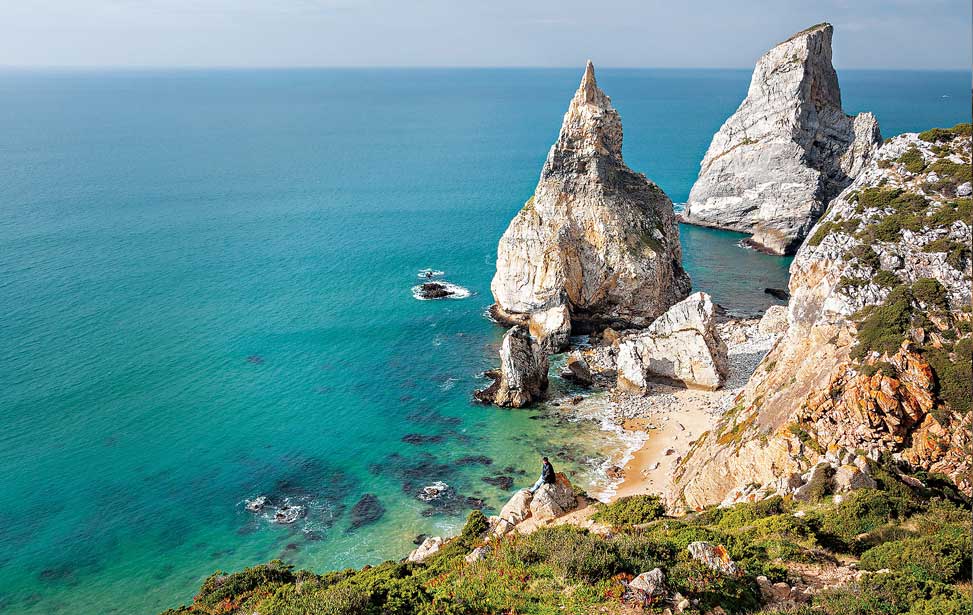 | 04
PRAIA DA VIGIA
Praia da Vigia, or Look-out Beach, lies at the southern end of São Julião beach and joins at low tide. Access to Praia da Vigia is via a steep path down the cliffside. The golden sands of Praia da Vigia stretch one and a half miles (2km) is also known as Assafora beach, named after the village nearby. Its remoteness makes it popular with naturists. Praia da Vigia has no facilities. There is a car park at the top of the hill.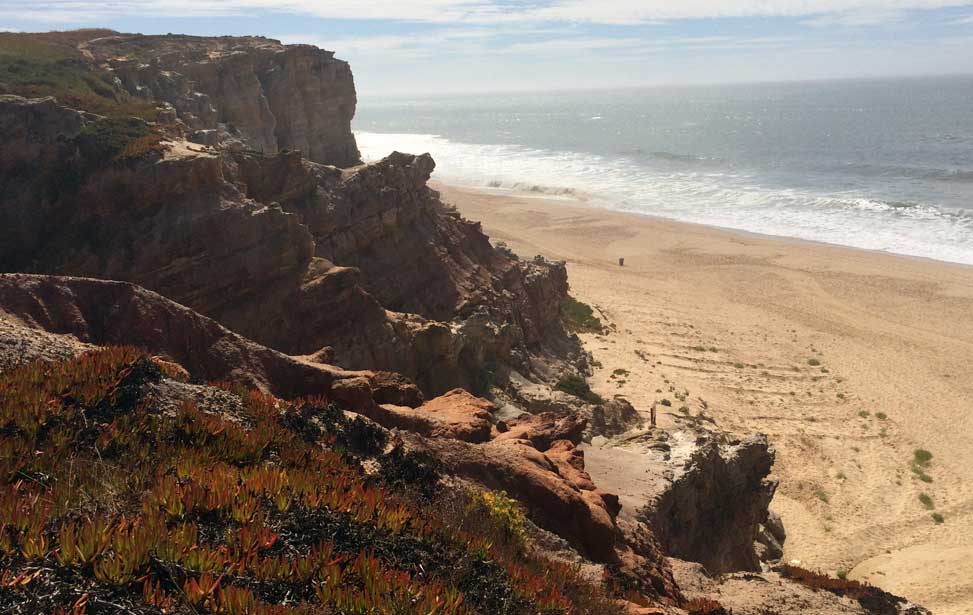 | 05
Praia das Maçãs
A pleasant wide stretch of sand with plenty of amenities and facilities for water sports. Praia das Maçãs is named after the river Rio das Maçãs (also the Rio de Colares) that empties into the sea at the southern end of the beach. Maçã means apple. On its course to the sea, the river flows through several orchards. Throughout autumn, apples come floating downstream and deposit on the beach. The small town of Praia das Maçãs has developed into a pleasant resort with plenty of restaurants, cafés, bars, craft shops and a choice of accommodation.

Sintra residents congregate here year-round for the fine seafood one finds here. The Sintra old tram terminates here during summer months which delights its passengers as it chugs along the 45-minute route through the picturesque countryside of the Parque Natural de Sintra-Cascais. Praia das Maçãs makes a great family destination with the addition of a large outdoor swimming pool equipped with slides, diving boards and a children's pool right on the beach along with a playground and a picnic area.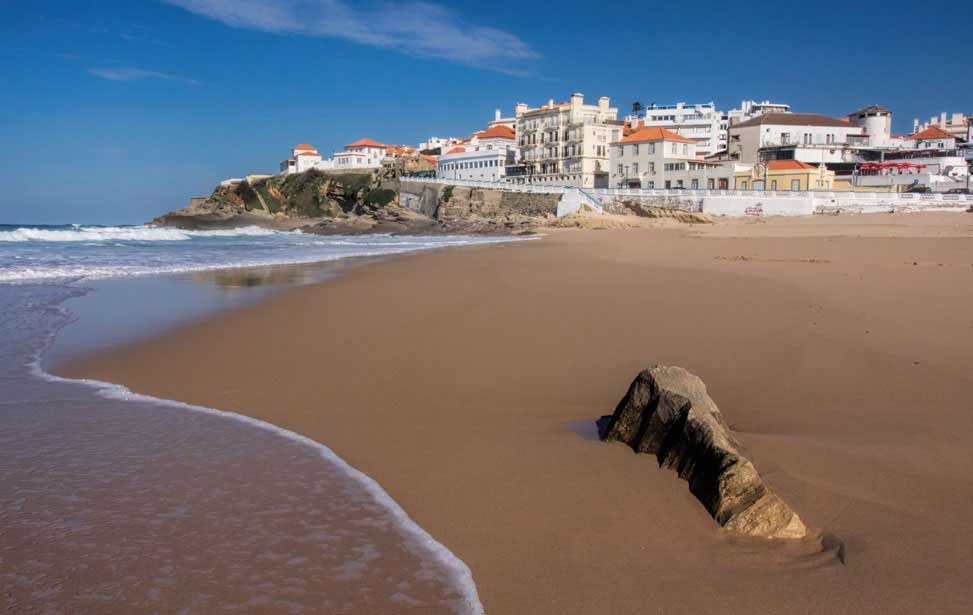 | 06
Praia de São Julião
Found within the Northern stretch of beaches in the Sintra area. This picturesque sweep of fine white sand extends for almost two kilometres. The river River Falcão which empties onto the beach is reduced to a trickle during high summer. Its blue waters are a draw for surfers and bathers alike. Praia de São Julião is conveniently equipped with restaurants and bars. Amenities such as showers and public toilets are available. There's plenty of parking spaces spread across two car parks.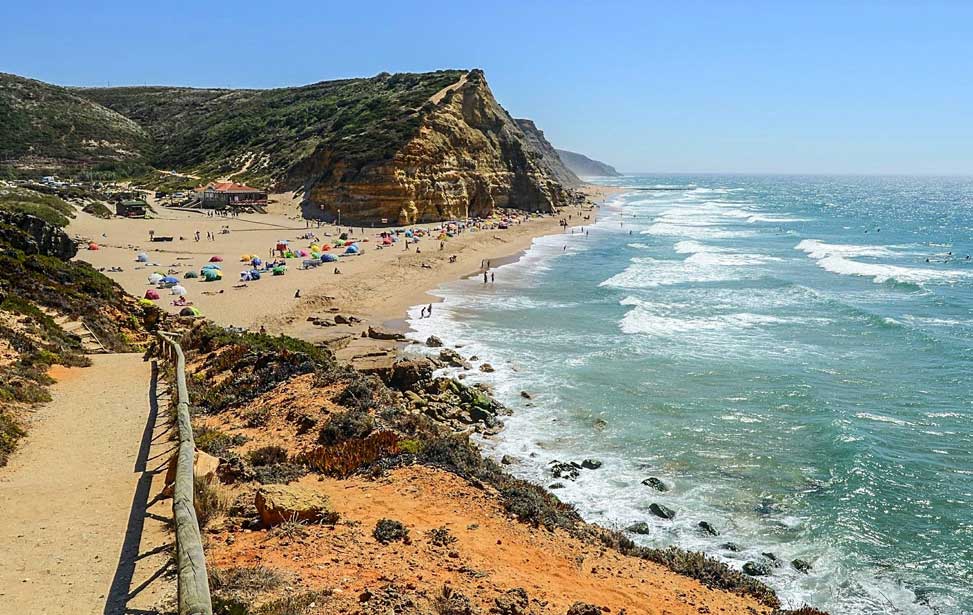 | 07
Praia do Abano
Located within a tiny cove at the lower end of the Sintra Coast, close to Guincho beach and Cascais, this beauty spot is overlooked often. Access to the beach is through pine forests along a dirt track. Somewhat exposed to Atlantic winds and tumultuous waves makes Praia do Abano a magnet for surfers and windsurfers. Another draw for visitors is the excellent Abano restaurant which has commanding views over the cove below. Close by atop of the cliffs is the battered Guincho Fort.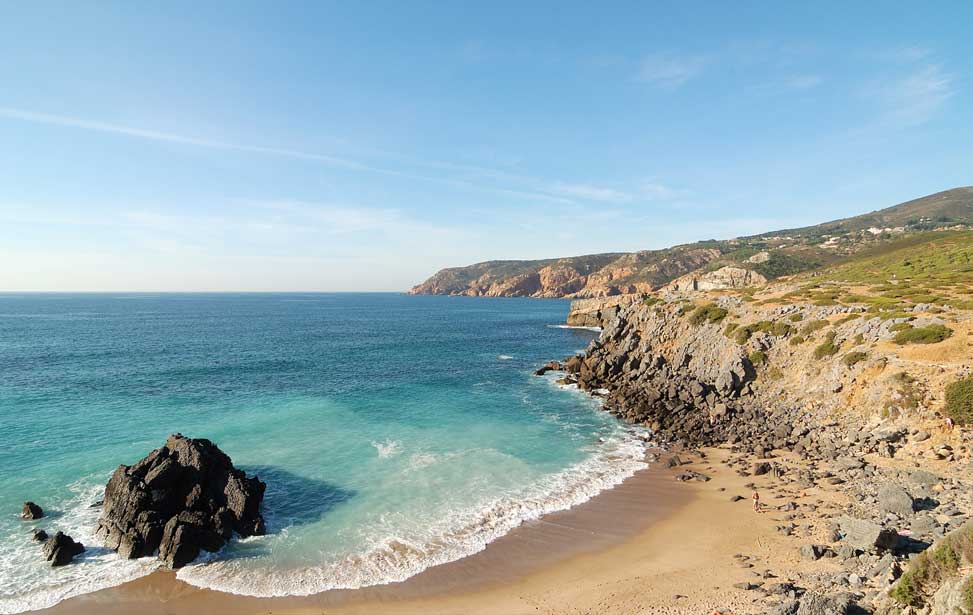 | 08
Praia do Mogoito
Praia do Magoito has a dramatic backdrop, a tall cliff wall that rolls over the horizon. The large beach consists of golden sands with a sporadic scattering of rocks. Its waters are a beautiful turquoise colour and rich in iodine, supposedly richer in iodine than any other beach in Europe. Access to the beach is on the northern side down a long sloping pavement that follows a line of protected ancient fossilised dunes ending where the Mata stream empties onto the sands. The path leading to the beach starts just off from the village of Magoito. It's worth pausing at the top to admire the view which stretches to Cabo da Rocha in the distance on clear days. There are good amenities at Praia do Magoito, including a couple of restaurants, public showers and toilets. The power of the waves here attracts many surfers year-round. Little ones might be safer to keep to the numerous rock pools found here. Even with its proximity to Sintra Praia do Magoito stays relatively quiet most of the time. Those who do decide to come here are rewarded by the rugged beauty of the area.
[ More About ► ]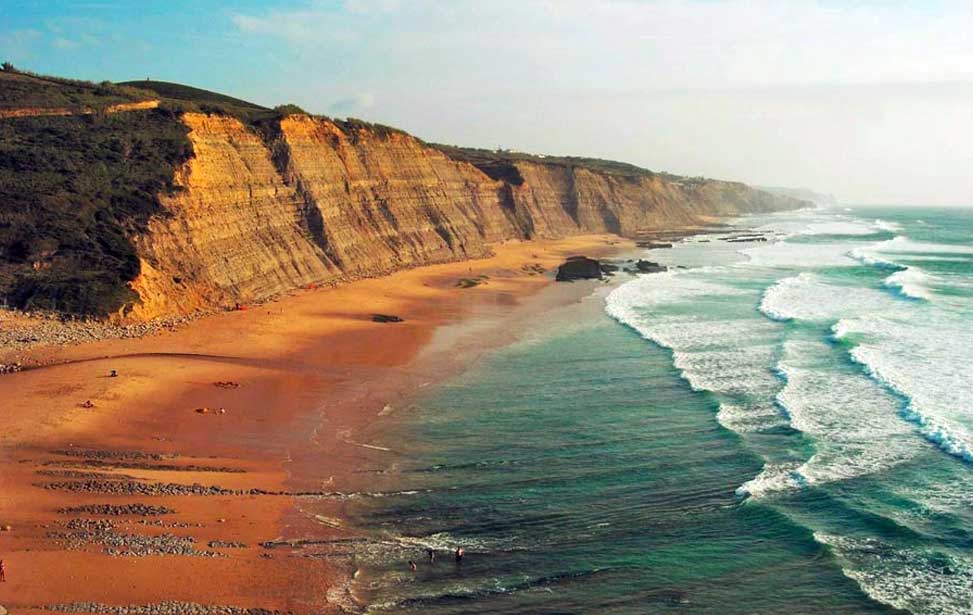 | 09
Praia Grande
As you probably can guess from the name, Praia Grande is the largest beach in the area. A vast swathe of pristine golden sands awaits you. The beach is popular with locals since it's easily reached by both private and public transport. The swell and consistent beach break attract surfers and bodyboarders all year round. On occasions, Praia Grande hosts national and international surfing championships. The magnificent slate cliffs on the southern end are an impressive backdrop to the view and create natural windbreaks. If you climb the steps to the top, not only will you be treated to a magnificent view, but be surprised at seemly gravity-defying dinosaurs. A total of 66 footprints dating back 170 million years are imprinted almost vertically ascending the cliff. Since the time Megalosaurus and Iguanodons walked here, tectonic forces have uplifted and tilted the land sideways.
[ More About ► ]
| 10
Praia Pequena
Praia Pequena is not as small as its name suggests. It's found just north of Grande Beach and sheltered from coastal winds. Popular with both sun-worshipers and lovers of water sports. It's also a good spot for fishing for Octopus and Bass. Coastal paths follow the line of the beach and are great for hiking with a view.