!—- ShareThis BEGIN -—> <!—- ShareThis END -—>
SINTRA COAST WEATHER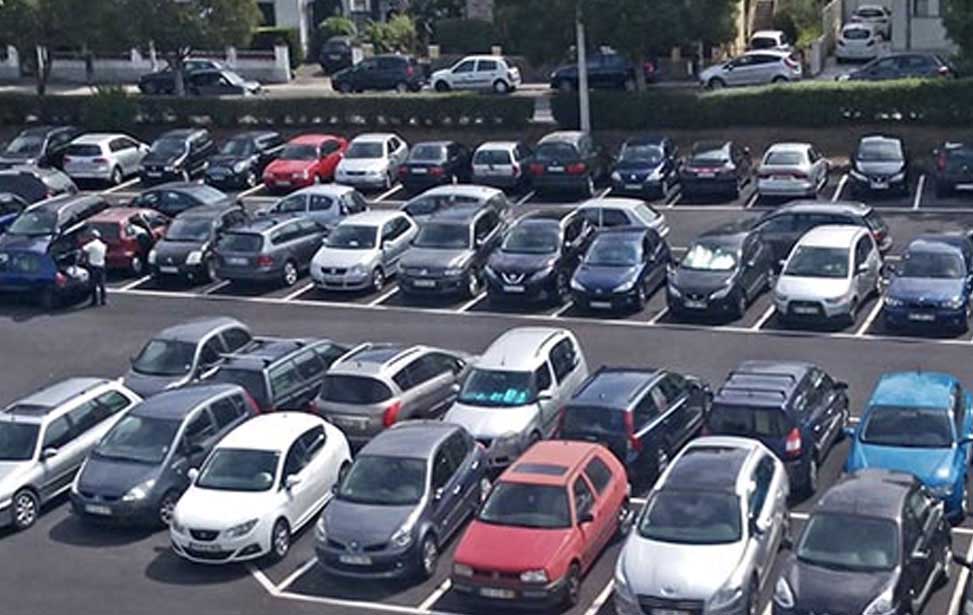 By Car
Once you've arrived at Sintra you will need to find somewhere outside the old town to park. Since 2018 the cobbled narrow and steep roads of the village of Sintra are out of bounds for those drivers without a permit. Permits are mostly reserved for residents only.

In the residential side of Sintra, 1.5km east of the old town, close to the Portel de Sintra train station is a large car park and is the best option during the summer. The maximum fare per day is €1.50. There's a "Park and Ride" system in place, show your parking ticket to the driver and you'll get a free transfer into Sinta town station where bus connections wait to take you further on. Buses run every seven minutes or so.

There's also a fair sized car park closer to the town train station just behind the Pingo Doce supermarket. From there it's an easy stroll to catch the local bus to take you to where you want to go.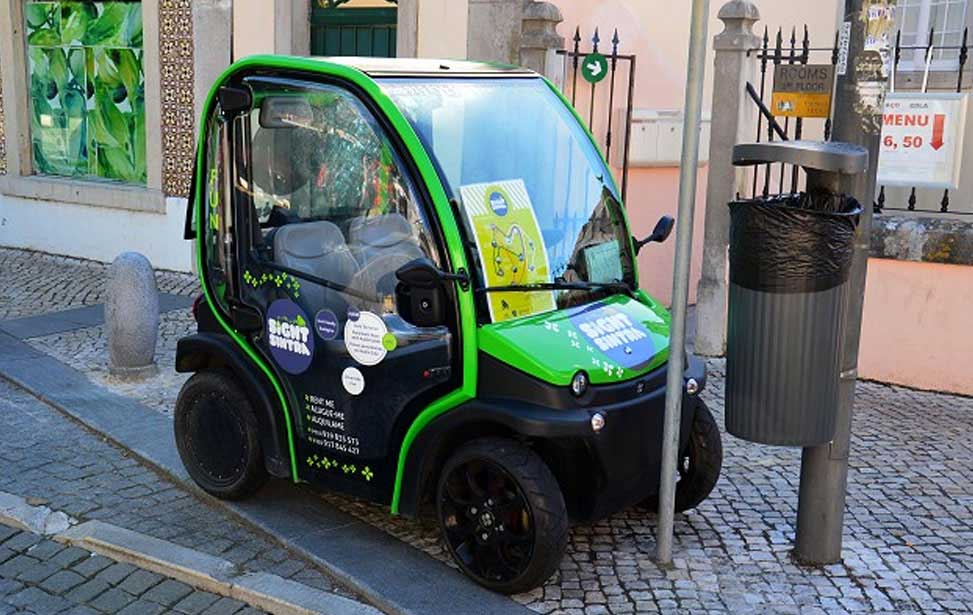 Sight Sintra
If you have a need to sit behind a wheel then why not rent an electric two-person buggy from Sight Sintra, Choose from one of their set itineraries, some of which include entrance to some of Sintra's sights included in the cost or simply hire by the hour to fit within your own plans. They come with a GPS system and audio guidance. You can find their office next to the train station.

Rua João de Deus,Sintra, Portugal. | 38º 47" 54.9' N | 09º 23" 11.4' W
+351 219 242 856 | info@parqueaventuraSintra.com | Website
By Bus
The bus #434 circular (Circuito da Pena)
This circular hop on/hop off service run by Scott URB is ideal for those who are visiting Sintra as a day trip from Lisbon and arriving by train. The route starts outside of the Sintra train station (NOT Portela de Sintra station), up the hill to Sintra Old Town centre where you'll find the National Palace and most of the towns restaurants, cafés and shops. From here it continues to meander up the steep windy road to the Moorish Castle (Castelo dos Mouros). The bus continues it's hike to the Pena Palace (Palácio da Pena) and it's surrounding park before descending back down to the train station. At a push then it's possible to do all three attractions in one day however two is sufficient, especially if you're considering to have lunch in the town centre. Tickets are bought onboard from the driver.
Hop-On/Hop-Off € 6.90 | One Way € 3.90 | Timetable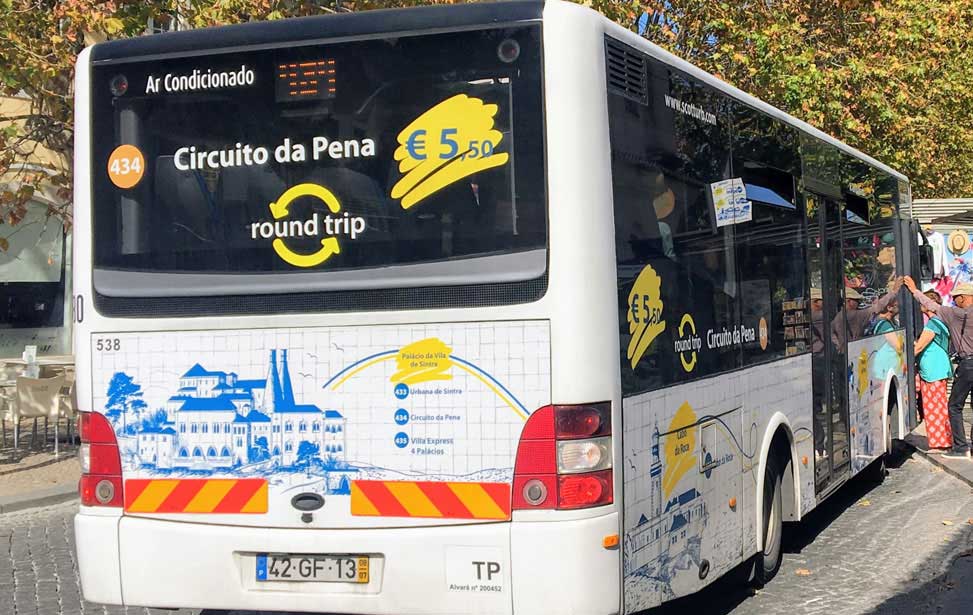 The Bus #435 – Villa Express & 4 Palacios
As with the #434 circular route above the 435 works as a hop on-hop off circular route which after stopping at the old town goes on to Quinta da Regaleira, the Seteais Palace and the Monserrate Palace. The 435 also starts and stops at the train station.
Hop-On/Hop-Off € 5.00 | Timetable | Scott URB Website

CitySightSeeing - Hop on/off bus
A common sight in many cities and tourist locations the double decker CitySightSeeing bus offer a hop on hop off service along with re-recorded commentary in 12 different languages.

Book Online!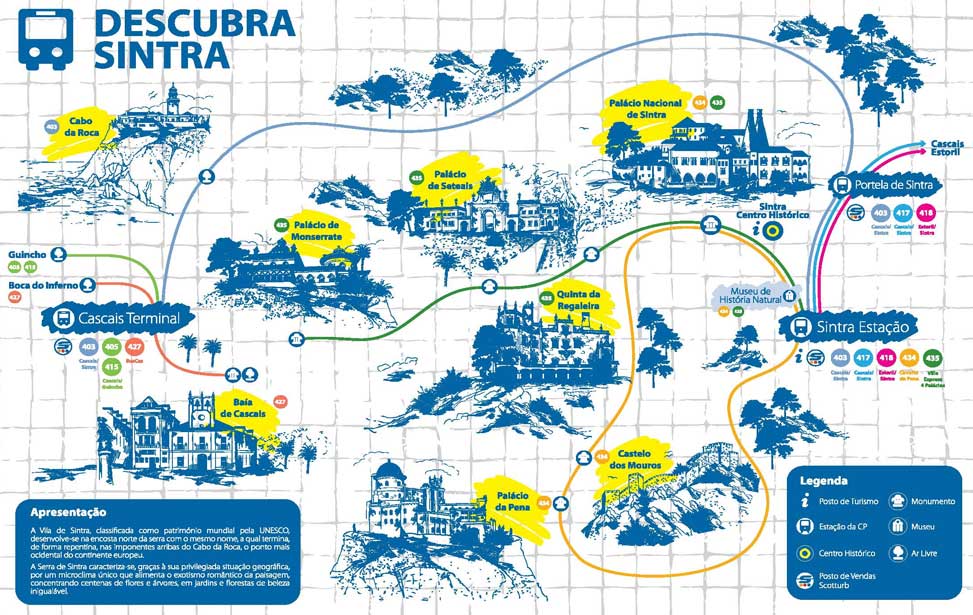 By Bicycle
Park E Bike Sintra
E Bikes are perfectly suited to making the hilly Sintra region accessible to all active travellers. Park E Bike offers bike rental for those who need their independence and also a series of guided tours for those who look for a more insightful experience shared with others. Pick up your e-bike at their office only five minutes on foot from Sintra Portela Train Station. If you are staying in Sintra, they can deliver your e-bikes to your hotel or accommodation.

5B Rua José Bento Costa, 2710 - 428, Portela de Sintra, Portugal.
38º 48" 00.6' N | 09º 22" 40.2' W | +351 925 699 839 | info@parkebike.com | Website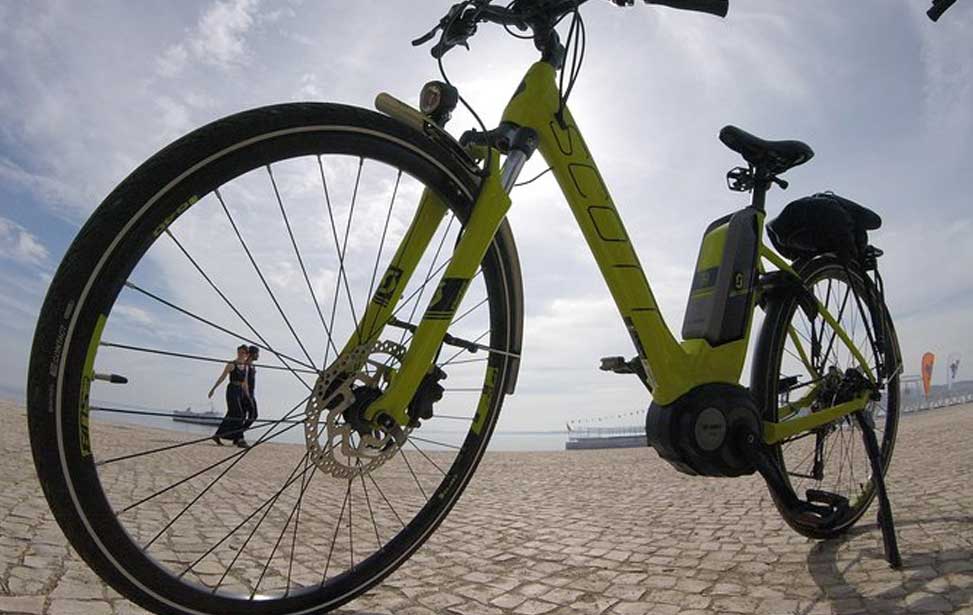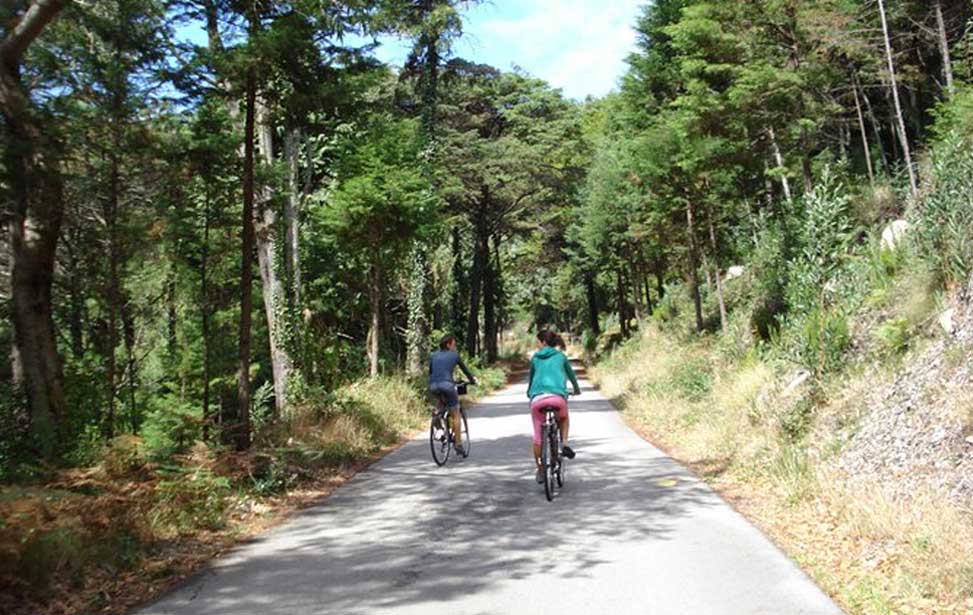 By Tram
Sintra's vintage tramway resumed it's seasonal weekend service from the centre of Sintra, close to the the Museu de Arte Moderna, to Praia das Maças on the coast. This rickety old tram squeaks and judders a seven mile (11.5km) picturesque route up and over the Parque Natural de Sintra-Cascais, passing through Colares and Banzão along the way. Bones are shaken for about 45-50 minutes before reaching the final destination. For a more rapid and comfortable, yet less fun, option take the Scotturb bus.
Old Tram Sintra - Praia das Maças Timetable

Adult: €3.00 Single, OAP & Child: €2.00 Single, Infant <6: FREE
Avenue Heliodoro Salgado, Sintra, Portugal. | 38º 48' 12.0" N | 08º 37' 17.62" W
+351 219 238 789
dtur@cm-Sintra.pt |  Website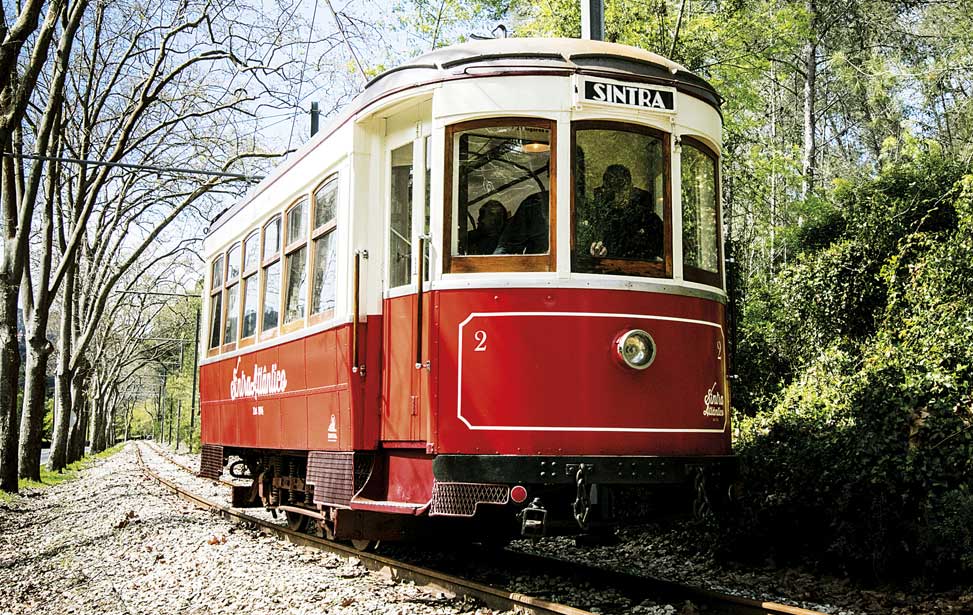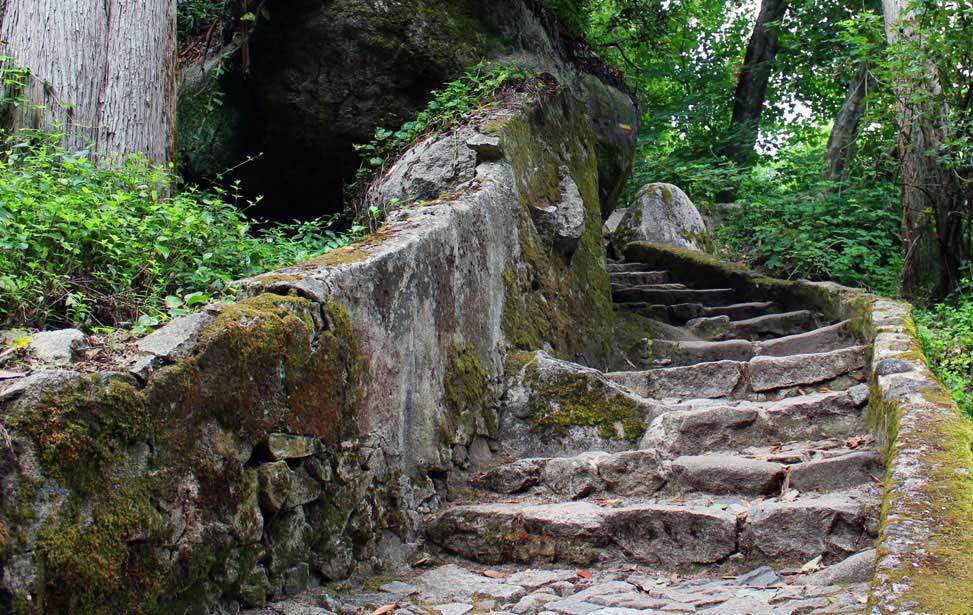 On Foot
There are a number of hiking trails well signposted between the historic centre and the various attractions of Sintra and surrounding area:

• Santa Maria Trail (Centre to Moorish Castle/Pena; 1770 metres, 1 hour)
• Lapa Trail (Centre to Pena; 1450 metres, 45 minutes)
• Seteais Trail (Centre to Seteais, Pena/Moorish Castle; 2410 metres, 1½ hours)
• Vila Sassetti Trail (Centre - Pena/Moorish Castle; 1850 metres, 45 minutes).

For more information about the walking trails of Sintra See More →
| | |
| --- | --- |
| Cooperativa Rádio Táxis | |
| Rádio Táxis de Colares | |
| Táxis de Sintra - Estação | |
| Táxis de Sintra - Portela | |
By Taxi
There are taxi ranks at the train station and in the old town centre by the post office. Minimum charge is between €3-€4. Taxi's a usually quite reasonable in Portugal, in Sintra they're a little more expensive. There is Uber in Portugal which is a cheaper option but there's no guaranteed phone signal in some of the remote areas of Sintra. Therefore it's handy to have some taxi numbers at hand, you can always use a land line to call them if needed.


By Horse Drawn Carriage
Reminiscent of times past these loverly carriages are a key feature of Sintra and what could be a more romantic way to discover such a romantic town than by open top horse drawn carriage. Imagine yourself as royalty as your carriage clippity clops along cobbled streets at a leisurely pace. There are a number of different tours available, they're usually found in the Old Town centre by the National Palace. Agreement is made with the driver of the route and fare. There are also a few who operate within the Pena Park.
A whole range of tours and services are offered by Sintratur whose carriages are restored 'milords' and 'jardineira' from the 1920s.

Contact Details
16 – 2.º Dt.º Av. Heliodoro Salgado, 2710-572 Sintra , Portugal. | 38º 48' 13.4" N 09º 22' 53.2" W
+351 219 241 238 | geral@Sintratur.com |  Website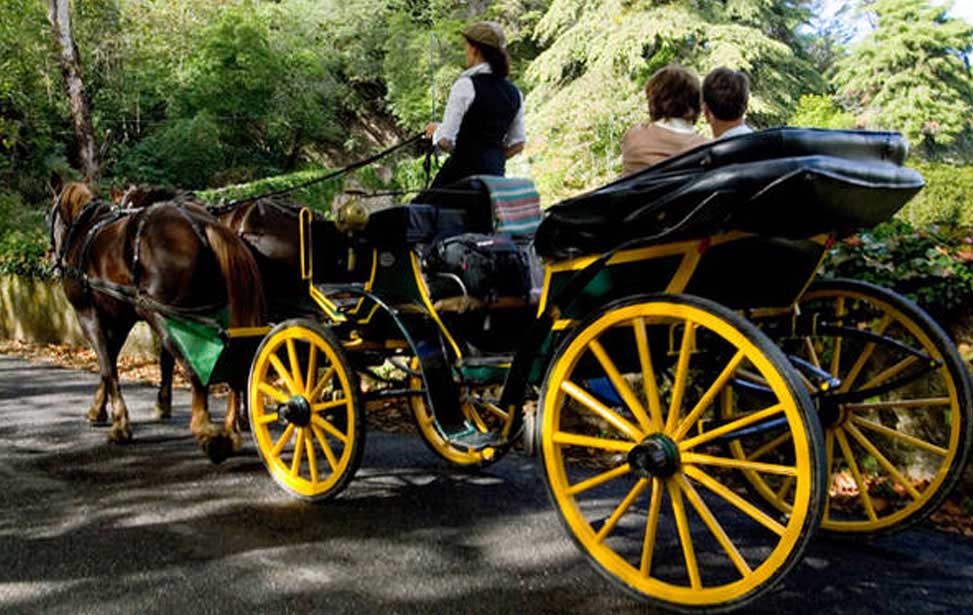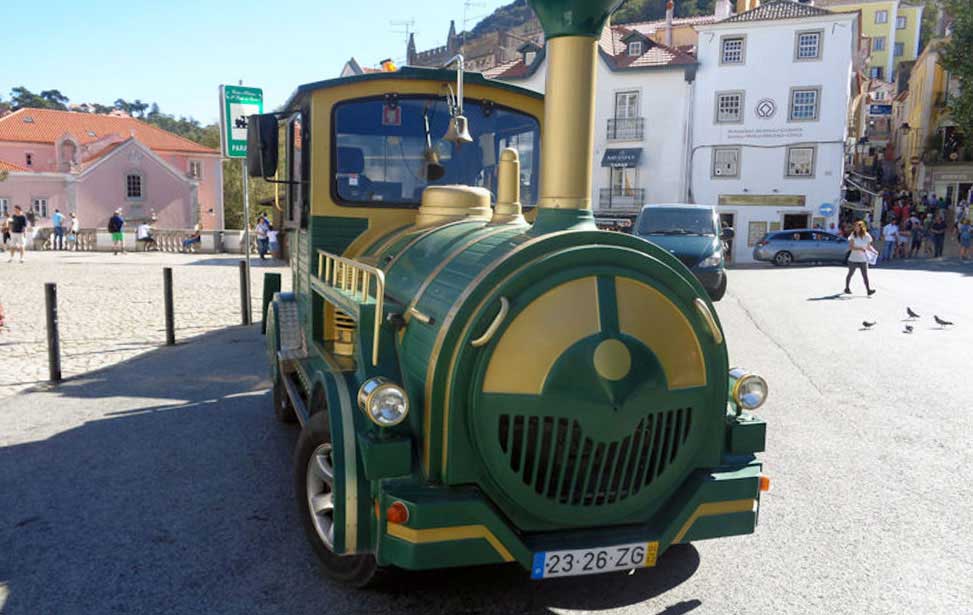 Tourist Road Train
A fun way to see Sintra is riding the Tourist Road Train which chugs it's way passed most emblematic places of Sintra, namely the National Palace of Sintra, Quinta da Regaleira, Moorish Castle and Pena Palace. The bumpy tour lasts 45 minutes and is accompanied by a comentary. There's a number of stops along the way and makes an ideal low cost hop-on/hop-off option. However the cobbled nature of the roads may make doing the whole route in one a little uncomfortable.
Adult: €8.00 Single, OAP & Child: €5.00 Single, Infant <6: FREE
Transportes Parques da Pena Lda, 12 Avenida Doutor Desidério Cambournac, 2710-553 Sintra.
38º 48' 03.5" N | 09º 22' 41.7" W
+351 918 258 001
geral@comboiodeSintra.pt |  Website
Discover Sintra by Tuk Tuk
Tuk Tuk tours start outside the main entrance of Sintra's trai station, hopeful drivers eagar to win your custom compete to get your attention. Tuk Tuk is an enjoyable way to explore the magical town of Sintra. Discover why UNESCO granted it World Heritage status first hand as you visit some of the fairytale palaces and gardens. Marvel at the romantic architecture of buildings such as the emblematic Pena Palace and Seteais Palace. Hear how Ferdinand II turned a ruined monastery into a castle using a mix of Gothic, Egyptian, Moorish and Renaissance styles. Journey through some of the parks and gardens full of exotic trees and plants. Explore how the artistic town became the blueprint for landscape architecture throughout Europe at sites such as the amazing Quinta da Regaleira. Guarantee now the best price for your Tuk Tuk tour and pre-book:


| Skip the line – Buy Tickets NOW